The Power of Smart Purchasing
The Radisson Hotel Group Marketplace offers real value and cost savings to all limited and full service operations and management groups. With a wide range of tools, services, and resources to simplify procurement, you can be assured of continued success for your operation. When you work with Source1, you can always rest assured that you are receiving the best products for your business and your clients. Here are some of the benefits of our marketplace:
750+ manufacturer contracts in food and beverage

Exclusive relationship with Sysco for food and beverage distribution

Access to national account pricing and rebates

Access to numerous OS&E contracts

A dedicated Program Development Manager to facilitate access and use of program tools
---
These dedicated professionals:
Help you understand all that is available through the program including opportunity for savings and compliance

Enroll you in direct deposit for rebate earnings you will receive on a quarterly basis

Facilitate program implementation making sure you're purchasing the right products and leveraging the marketplace tools found in the member exclusive portal
Let us be an extension to your team! These services are available to you at no cost for being a Radisson member hotel.
---
Sample Reporting
Program Product Match
Based on your purchases, Source1 Purchasing matches up items you are buying where Source1 Purchasing offers an alternative item at a lower cost. By making switches to program items, you will raise your participation and increase your overall savings through the program.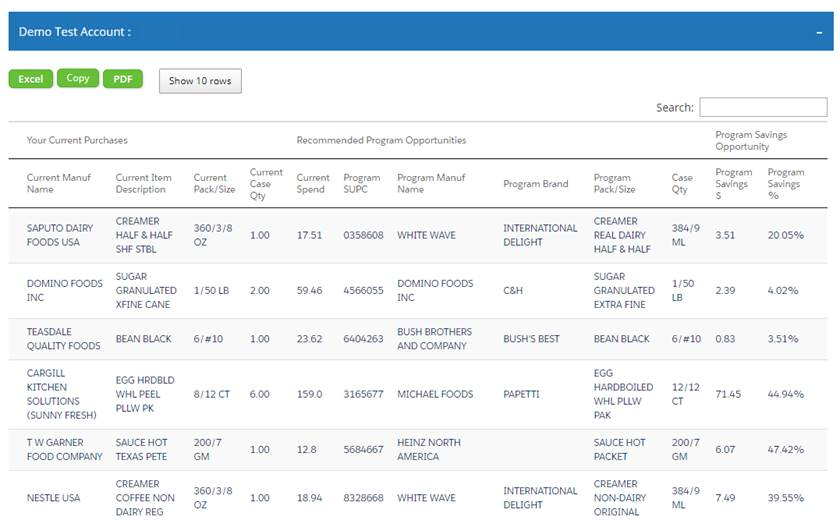 Savings Impact Report
Your Program Development Manager can review your Savings Impact Report to assess the performance and financial impact of the program and review compliance levels based on Radisson Hotel Group's brand standards.
Descending Dollar Report
A monthly snapshot of all your purchases, and monthly program participation. We identify which items you are buying on the program and which you are buying off the program. By identifying where you are not purchasing program items, we can add an additional 3-5% savings value.
---
FAQs
+ What suppliers are part of this program?
Source1 Purchasing provides access to more than 750 food and beverage manufacturer agreements, and a comprehensive portfolio of operating supplies and equipment suppliers.
---
+ How do I know what items are contracted?
You have two great tools to access food and beverage contract items. With mySource1 and the Product Search Tool to search your local Sysco distribution warehouse by category, sub-category or keyword search. Additionally, Sysco's and OS&E suppliers' online order entry systems visually identify contract items in the system. This is annotated next to the product description.
---
+ How does this change my current purchasing operation?
There is no disruption in your operation. You continue purchasing directly with Sysco and/or identified OS&E suppliers, and orders are delivered directly to your property. The added benefit is you receiving national contract pricing.
---
+ I already use Sysco. Will I get better pricing?
With immediate access to more than 6,000 contracted items available for purchase at the local Sysco distribution warehouse, your property will receive immediate off-invoice savings and begin to earn rebates.
---
+ I don't currently use Sysco. How do I move forward?
The marketplace utilizes Sysco Foods as its primary food and beverage distributor partner. If you are using another distributor today, Source1 Purchasing will work with you and the distributor to ensure a smooth transition process.
---
+ I have a great agreement. Why should I join the marketplace?
The Radisson Hotel Group and Source1 Purchasing partnership affords you the operational expertise necessary to manage supplier contracts. Even if you have a great agreement, Source1 Purchasing understands how difficult and time consuming it is to maintain these great agreements. Through Source1 Purchasing, you will get an extension to your team while ensuring best pricing up to par with Radisson brands standards.
---